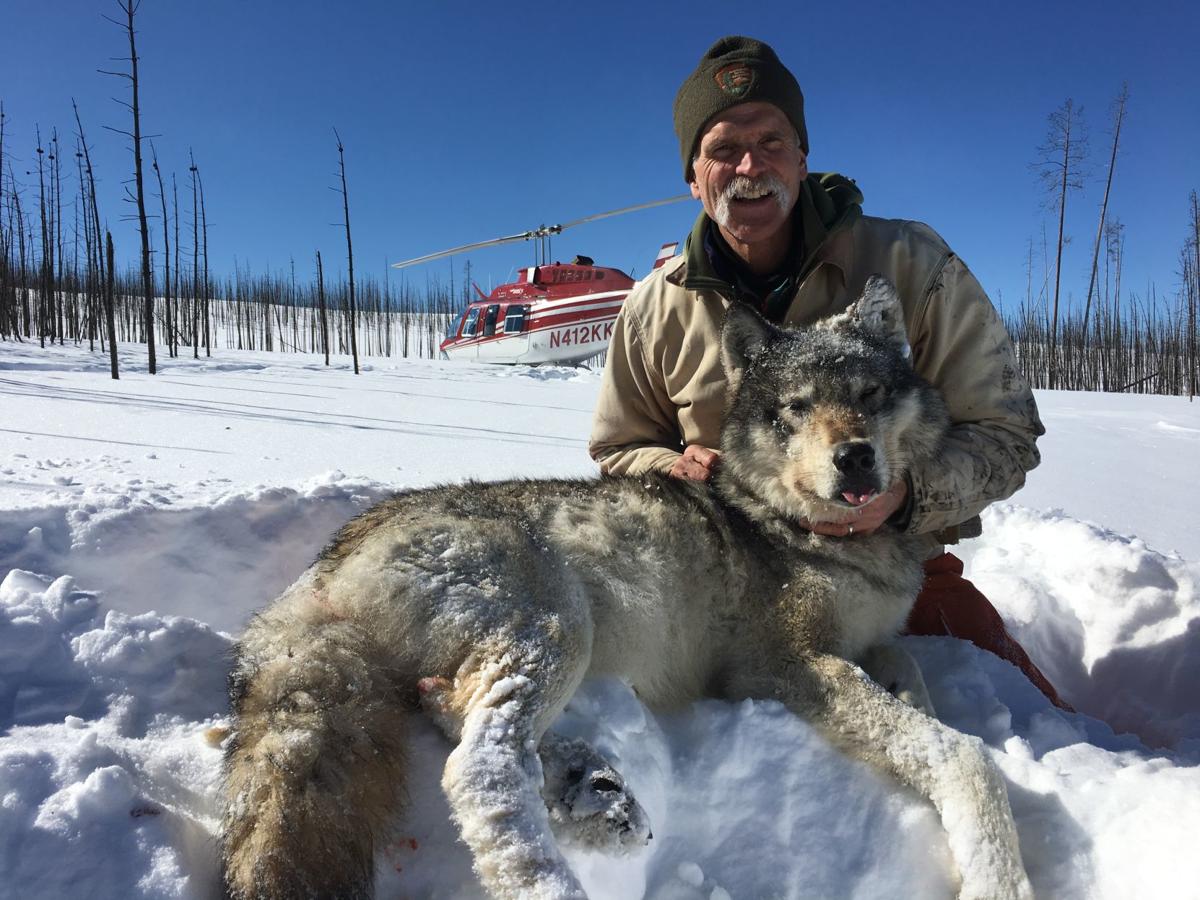 Doug Smith arrived in Yellowstone National Park in 1994 with orders to reintroduce wolves. The same year, a cow elk numbered 1125, was born.
On Jan. 30, 25 years after wolves repopulated northwest Wyoming, grizzly bears came back from the brink and mountain lions re-established themselves, elk 1125 finally died, giving into the weather, a predator or perhaps something else entirely.
Yellowstone National Park senior wildlife biologist is picture with a wolf. Smith arrived in the park in 1994 to reintroduce wolves.
Courtesy, Doug Smith
Smith, 59, tried finding her collar on Tuesday, hoping to definitively say what killed the oldest elk collared in Yellowstone National Park. But signals from her collar were too difficult to trace. After hours of skiing through the backcountry, the senior wildlife biologist and and a team turned around, knowing she will likely be buried by snow soon and then scavenged until she's no more than bones.
People think of Smith as the wolf guy. He's spent years at public meetings and in hundreds of interviews talking about wolves. But over the years, he's felt more connected to that elk.
"We all need touchstones, and this gal out there. Every step of the way was with me in Yellowstone," he said. "Her life was unsung and mine has been this exciting slog through the wolf world and government bureaucracy, and I wondered how she did it."
The Star-Tribune caught up with Smith to talk to him about the past 25 years, what he has seen, what elk 1125 likely saw, and what is next for Yellowstone's elk and wolves.
CST: What was the environment like when you arrived in Wyoming? Were you prepared for the divisiveness?
Smith: I was. Having been interested in wolves most of my life, I had 16 years prior wolf experience, and controversy and wolves go hand in hand. They're a polarizing topic, sadly, agonizingly, and they're emotional.
But every time I sat down with a rancher or hunter I always liked them. That was the attitude I came in. I get this, it is the right thing to do, it's backed by policy and law, but it doesn't have to be that bad. You can have wolves and hunting and ranching altogether. I was optimistic.
Read more Yellowstone biologist reflections on wolves and elk | Open Spaces | trib.com