LISTEN TO THE AUDIO VERSION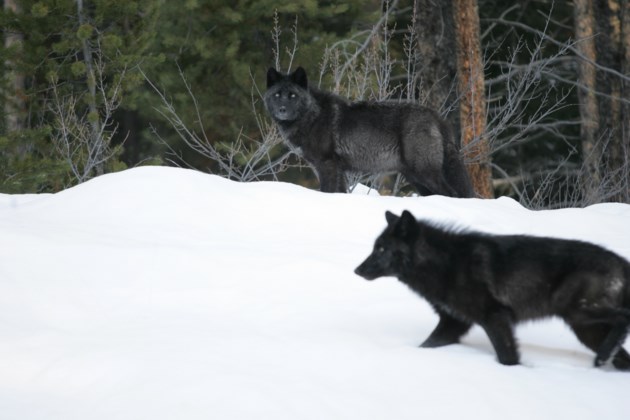 The Bow Valley wolf pack recently took down an Elk on the slopes of Mount Norquay as it continues to roam and navigate the busy Bow Valley
By: Cathy Ellis
Members of the Bow Valley wolf pack in 2011. The numbers and members of the pack have fluctuated over the years. Two members of the pack were killed earlier this year on the Trans-Canada Highway. RMO FILE PHOTO
BANFF – With a few blows and setbacks, the Bow Valley wolf pack seems to be keeping out of harm's way for the most part over the busy summer tourist season.
The pack, which lost a male and female yearling in two separate strikes on the Trans-Canada Highway earlier this year, has been roaming between Lake Louise and east towards Canmore navigating the busy valley that attracts more than four million tourists.
Parks Canada wildlife officials say the pack took down a collared Elk on the slopes of Mount Norquay about a week-and-a-half-ago, and five of the six wolves believed to make up the pack were spotted there.
Jesse Whittington, wildlife biologist with Banff National Park, said it's believed the pack consists of the breeding pair, a yearling and three pups.
"We are very pleased they denned this year given that wolves are such important top down predators in Banff National Park and important components of the ecosystem," he said.
"They're behaving well, they're not approaching people, and they're not looking to people for food, which is really encouraging."
Meanwhile, Parks Canada recently lifted an annual seasonal closure for an area of the Fairholme bench on the north side of the Trans-Canada Highway between Banff and Canmore, an area that has seen wolves den in the past.
Whittington said there have been no wolves from the former Fairholme pack seen over the past three years, noting the Bow Valley pack has now taken over that part of the territory between Banff and Canmore.
"The last time we knew of wolves denning on the Fairholme was in 2016, but that could easily change this winter if a couple of wolves set up shop in the area and push the Bow Valley pack out of the area," he said.
"We're always watching to see how those pack dynamics will change."
The Fairholme pack, which had as many as 14 members in the early 2000s, ranged around the Banff townsite, east towards Canmore and north toward Lake Minnewanka and the Ghost area on provincial lands.
It's not known for sure what happened to wolves in the Fairholme pack. It is believed the pack produced two pups in 2016, but by the late winter the number of individuals in the pack was three.
"The packs can dissipate for a number of reasons, including natural conflicts between and among wolves, and that pack was also subject to hunting and trapping pressures outside of Banff National Park," he said.
"Wolf packs are pretty dynamic and they are constantly changing."
Two backcountry wolf packs, known as the Cascade-Panther and Red Deer, were more or less decimated last year after several wolves were caught in neck snares by trappers on neighbouring provincial lands.
But Whittington said there are now signs of wolves in those valleys.
"We are picking up tracks and images of wolves in the Panther and Red Deer valleys and at this point we don't know how many wolves are roaming through those areas," he said.
via Bow Valley wolf pack 'behaving well' – RMOToday.com